Welcome to Container Joe's!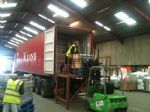 We provide a speedy and cost effective palletising service. With 12 years experience, our highly experienced and professional teams are the best in the business. We work closely with Hauliers and keep an close watch on port operations to insure that all containers run to schedule.
'Container Joe' operate a policy of continual professional training in manual handling, health and safety and forklift operations. With strength, skill and stamina we make sure your products are unloaded in time, on time every time no matter how difficult the circumstances.
Why pay per hour, when you can pay per container?
With container Joe you get a difficult job done well at a good honest price. The unique way in which we operate allows use to keep productivity high and costs low.
What we do:
Devanning containers ( Unloading )
Stuffing containers ( Loading )
Licensed counterbalance, pedestrian pallet truck and reach truck operators
Palletising of Goods
Shrink wrapping or corner boarding and strapping pallets
Small Packing Jobs
Labelling work ( Box end and inners )
Quality sorting Jobs
Restoring damaged loads after accidents
Don't forget that we provide you with cost efficient fixed rates, and, we operate 7 days a week, 360 days a year.
For further information on how we can help you CALL 07850 739164 NOW
Customer Comments
"An excellent company to work with - professional in their approach, reliable and impressive in action. I can thoroughly recommend 'Container Joe'."
Brian Gardner
Birmingham
"I have found them a delight to work with. They are very professional, polite and helpful".
Sallie Barlow
Stock controller Gardman